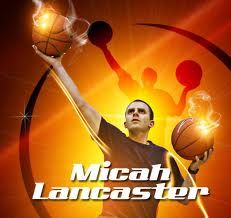 Who Is Micah Lancaster?
Micah Lancaster is without a doubt a true underdog of the game that rose up to great heights in the basketball world.  Micah Lancaster overcame true adversity as an undersized, 4'11 freshman guard on the JV squad, getting downsized from the varsity back to the JV his sophmore year and then having a career ending knee injury his junior year of high school. With a laser focus on his goal of playing college ball, he strove to be extraordinary so he developed drills to give him that extra edge to surpass the ordinary.  He was disciplined and focused in his desire to constantly improve to the point where he became an NAIA All-American Basketball Player and an International Basketball League (IBL) All-Star.
Is Micah Lancaster The Real Deal?
Micah Lancaster's training and skill development program surpassed our 5 critical factors in determining a quality basketball training program.
Will the program improve my game?
Will the training improve my fundamental skills and will those fundamentals translate on the court?
Is the program efficient and effective?  Will one drill work out one aspect of my game or will it work out multiple dimensions of my game?
Is there a proven track record of success and improvement in those who have used the program in question?
Is the program organized in a way that will allow me to implement the training properly and realistically commit to the system?
Micah Lancaster's System Over Delivers
Micah Lancaster is a proven basketball player and basketball trainer with an amazing basketball resume.  He was the former lead trainer with Ganon Baker Basketball, and works with some of the best players in the NBA today.  He has without a doubt proven his competence as a game advisor and you can preview Micah working with the NBA greats for your self.
Micah Lancaster Review – Conclusion
Micah Lancaster's skill development program and DVD's are available online and very reasonably priced at $25 – $30 per volume at the time of this review.  These DVD's will definitely help basketball players take their game to the next level and we highly recommend it.  You will improve in all aspects of your game both physically and mentally.
Doing Micah Lancaster's drills will help players practice with a purpose and know that every single practice they will leave their practice session better than when they came in.